Corporate events in Sevilla managed by ONE Events

Experienced corporate event coordinators based in Sevilla, Spain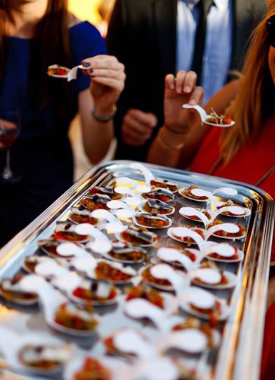 We are the leaders in Sevilla and throughout the Costa del Sol in planning and catering for various types of corporate events in Sevilla and the whole of the Costa del Sol. We can provide canapé menus for any kind of shop opening or new premises. We also cater for office parties, team building days as well as larger corporate events such as symposiums, conferences and exhibitions in Sevilla or elsewhere in Spain.
We have a large selection of sample menus for catering services in Sevilla whether it be for a la carte sit-down meals or for informal buffets, and can also provide all equipment, linens, waiting staff, lighting, sound, staging, decoration, marquees and any other equipment or staff required for your corporate event in Sevilla.
Experience in Sevilla
We have been handling many types of corporate events in Sevilla for many years, and in doing so, we have become local experts. Our team of planners work with the best of the best local caterers in Sevilla, as well as the most experienced and knowledgeable equipment hire companies in Sevilla. If they are not available, we bring our staff and equipment from elsewhere in Spain - to be sure you are not missing anything for your corporate event. In short, we are the corporate event planners in Sevilla that you can trust.
Corporate Event Catering in Sevilla
One Events works closely with One Catering for all your corporate event catering in Sevilla needs. For more information about the catering services offered, please see: Catering company in Marbella, Spain.
Other Corporate Event Locations
Below you will find our most popular corporate event locations over the past 3 years. If you have not already decided on which Spanish city would best suit your requirements, please contact us and one of our representatives will be able to advise you on what would be the best choice for you.
Marbella Corporate event planners in Marbella Corporate event planners based in Marbella planning corporate events in Marbella and throughout Spain Corporate Event Planning Marbella https://eventsinmarbella.com/corporate-event/marbella/

Mallorca Corporate event planners in Mallorca Corporate event planners based in Mallorca planning corporate events in Mallorca and throughout Spain Corporate Event Planning Mallorca https://eventsinmarbella.com/corporate-event/mallorca/

Las-Palmas Corporate event planners in Las-Palmas Corporate event planners based in Las-Palmas planning corporate events in Las-Palmas and throughout Spain Corporate Event Planning Las-Palmas https://eventsinmarbella.com/corporate-event/las-palmas/