Event planners in Andalucia managed by ONE Events
Event planners in Andalucia, event planning in Andalucia, event planning Andalucia, event planner in the Costa del Sol Spain servicing all areas with catering and decoration for all your events.

Experienced event planners based in Andalucia, Spain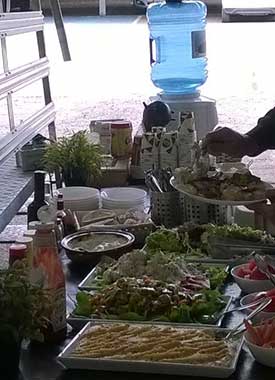 One Events Marbella is of course based in Marbella, although we do have a strong background of event planning and management across Spain, Europe and Internationally.
We have a large kitchen and meeting room based just outside of Marbella that we can make available to you for tastings and to get to know us better.
With that said, our management team are prepetually travelling to Andalucia, so a meeting to discuss your event or catering requirements in Andalucia can be arranged with limited planning on our part.
Our event planners and many of our staff in Andalucia can speak English, Spanish, French, German and many other languages. We have a wide network of professionals in all areas (from wait staff to wedding planners and everything in between) at our disposal in many different languages, and wherever needed, we also work closely with one of the largest translation agencies in the UK (Translator UK) that can supply simulatenous interpreters anywhere in the world.
No matter what kind of event you are having, no matter how many guests will be attending your event in Andalucia, we can take the weight off your shoulders, so you can enjoy it as much as your guests. That's what we are here to do.
Below are just a few of the types of events we have organised, coordinated, catered for, or completely handled in Andalucia over the past few years, for further information about our event planning services or to speak to an event planner right now, please contact us.